North American region
The North American Section secretary is Michael J. Connor onsnorthamerica@gmail.com.
North America Section Meetings
The Oriental Numismatic Society North American Section meetings are held on Zoom, with in person sessions in New York and other locations. Presentations made at meetings are available on the Oriental Numismatic Society channel on YouTube.
Oriental Numismatic Society North American Section meetings and information are also available on the ONS North America Facebook page.
ONS North America region members can subscribe to ONS-L, a discussion and information list for members of the Oriental Numismatic Society. ONS-L provides a simple way for ONS members to interact with each other to make announcements, to ask questions, and to discuss Asiatic coins, books, and all aspects of oriental numismatics.
ONS-L is hosted on groups.io which allows participants to post via web or email. To join visit https://groups.io/g/ONS-L/join. If you have problems signing up, email the Regional Secretary and you will be sent an invitation.
Annual dues are $40
Paypal to onsnorthamerica@gmail.com. I particularly request Canadian members to use this method unless you are using a US-based bank.
Checks to
Oriental Numismatic Society
PO Box 370602
Reseda, CA 91337
USA
Previous meetings
January 14th 2023 The annual ONS North America meeting was held on Zoom with an in-person session at the New York International Numismatic Convention. Speakers:
Regional Secretary Michael Connor - Introduction and Brief Report on ONS North America in 2022.
John Deyell - A Uniface Indo-Sasanian Coin Reveals Ancient Minting Techniques.
Pankaj Tandon - Analysis of the Metal Content in Gupta Gold Coins.
Michael Bates - The Earliest Muslim Coinage of Iran.
After the meeting, attendees attended dinner at Spice Symphony.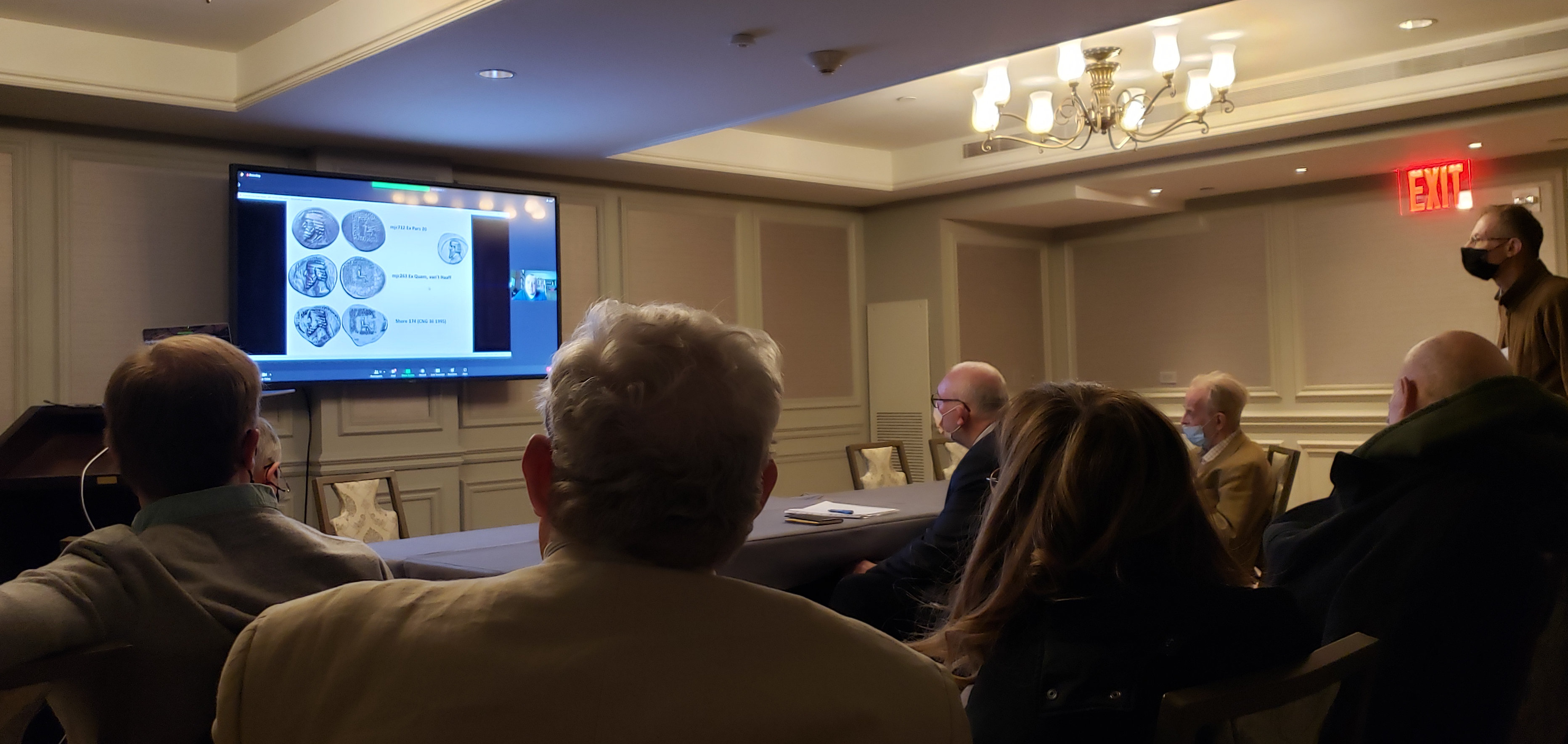 January 15, 2022, 5pm, over Zoom and in person, during the NY International Numismatic Convention.
The program was
"My favorite coin" – brief 5-minute presentations
Michael J. Connor: Two drachms from eastern Parthia
Peter Linenthal: An interesting bronze of Kanishka with Buddha reverse
Robert Hoge: The Abbasid dinar of Al-Mansur issued by Charlemagne
P. Hari Prasad: A dinar of Muhammad bin Tughlaq
Aleksandr Naymark: "Foreign coins of the 1st-4th centuries CE found in Sogdiana (Parthian, Kushan, Post-Kushan, Sasanian, Kushano-Sasanian, and Roman)."
Stuart Sears: "A Misunderstood Governor: al-Hakam b. Abi al-'As and the Legitimation of Umayyad Rule in Seventh Century CE Kirman"
Bilal Ahmed: "Mahmud of Ghazni's Coinage From Lahore"
The meeting was simulcast on screen in the Astor Suite I of the InterContinental New York Barclay hotel during the the NYINC coin show.
January 9, 2021 at noon, via Zoom
Talks:
Prashant Kulkarni: Dies of Vidarbha punch-marked coins and estimated currency production
Joe Cribb: Kushan gold coins: Using die studies to understand the function of reverse designs
John Deyell: How are we to interpret Medieval India's posthumous coins?
Joe Boling: Counterfeit paper from China
January 18, 2020 during NYINC at the Grand Hyatt hotel
Talks:
Aleksandr Naymark: "Mint of Ishtikhan in the 8th century"
Bilal Ahmed: "Jain influence on medieval Multan: re-deciphering the biruda of Amir Fahad"
John Deyell: "Shiny deception: surface enrichment in medieval Indian silver coins"
Ujjwal Brian Saha: a brief talk on some new Gupta coins.
After the talks, we will go out to dinner at Bukhara Grill.